Tubby Toast Crumbs
Eh-oh! This page is the place for all the teletubby flotsam and jetsam that has been accumulating on my hard drive over the last couple of years. Newspaper cuttings, pictures, insane ramblings and anything else that has no obvious home. Don't expect coherence or any point to anything on this randomly thrown-together page!
---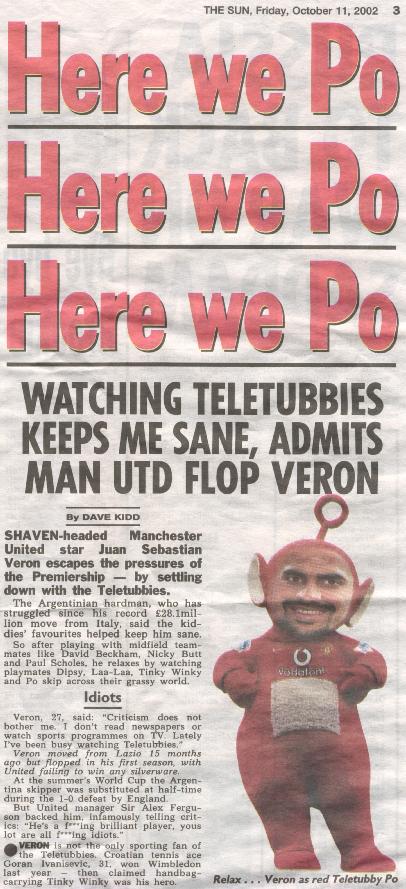 Watching Teletubbies keeps me sane too. So the voices tell me.
---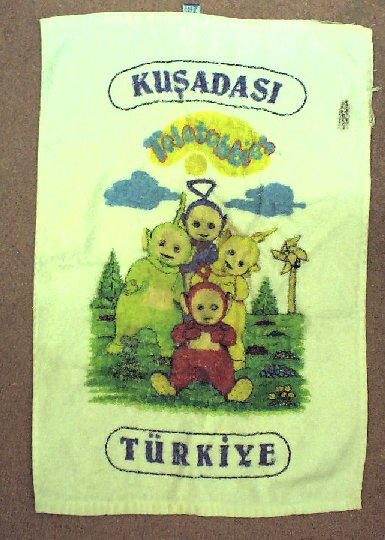 Thanks to Rhian for giving me this: a Turkish Teletubbies teatowel! I'm not sure what the connection is between the teletubbies and a Turkish holiday resort - perhaps they go to Kusadasi for their holidays?
---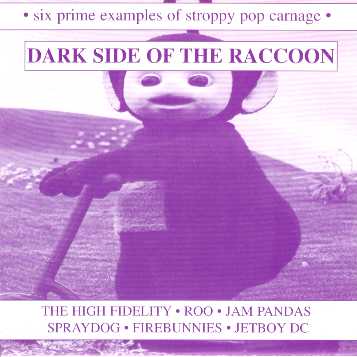 You're familiar, I'm sure, with the Teletubbies' smash hit single "Teletubbies say Eh-oh!" (which would have been the U.K. 1997 Christmas number one if it wasn't for those meddling Spice Girls!). This was their only single but they also graced the sleeve of this double 7 inch compilation on Fierce Panda Records in 1998. Laa Laa is on the back and the lads appear on the labels. Believe it or not, I actually bought this as I quite like Spraydog, not because of the artwork, though that was a nice bonus.
---
Hey, whatever happened to the sun baby?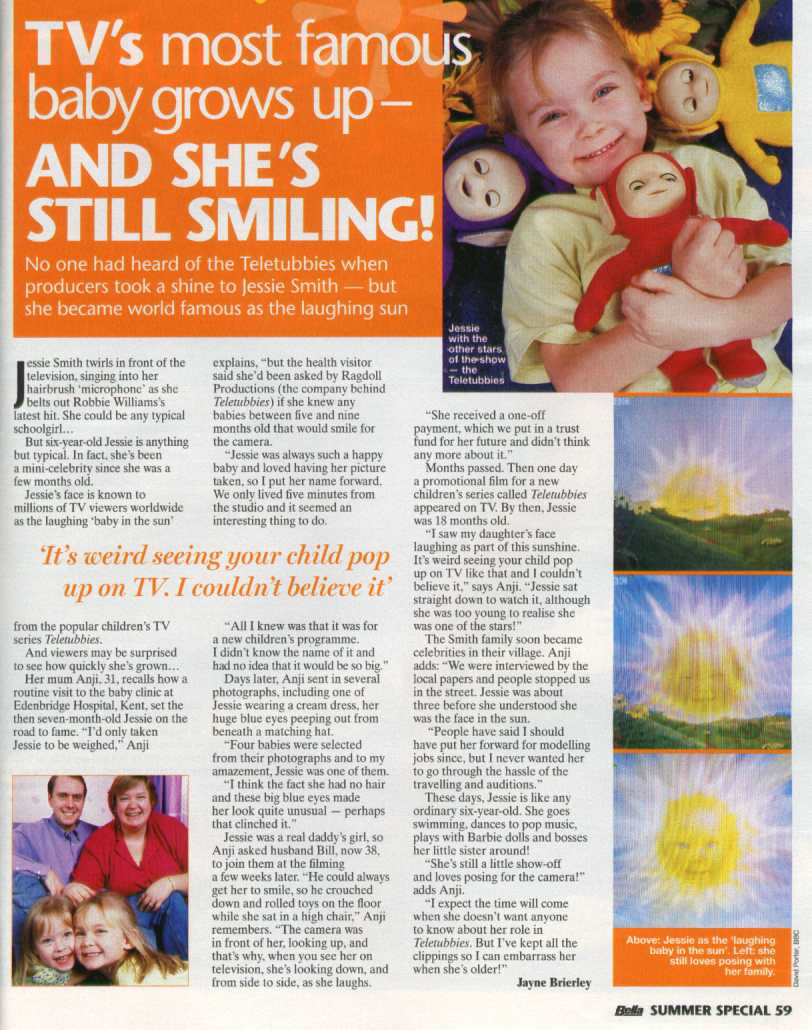 Taken from Bella Summer Special 2002. This site will be watching out for Jessie's inevitable appearances on 1990's nostalgia chatshows over the coming years and decades!
---
Check my baaadaassed geetar sound! Or, erm, my bad, half-arsed guitar sound. I've had this guitar for several years now but have yet to learn how to play it. After some initial fun attacking it with a hairbrush and pretending to be Sonic Youth, it was left to gather dust until the other day when I spent two hours of my life trying to learn how to play the mighty anthem that is the Teletubbies Theme Tune. I'm still not as good as Laa Laa though!
---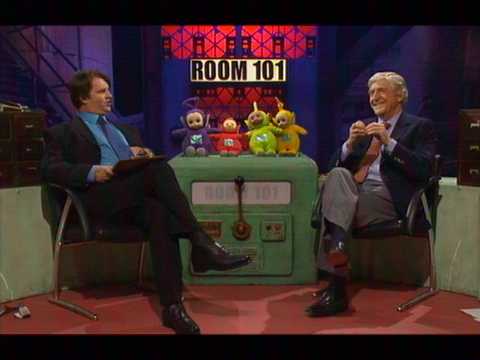 This is a picture taken from BBC's "Room 101" in July 1999. I'm not sure if this program exists outside the UK but it is a show where celebrities are invited on to submit things they hate to be consigned to the aforementioned "Room 101". Named after the room in "1984" where everyone faces their worst nightmares. The man on the right is the guest, Michael Parkinson. He hosts middle of the road chat shows and if he has ever done anything else, I'm certainly too young to know what it is. I've never had anything against the man until, suddenly, up he pops on this program and demands that Our Furry Lords be thrown into Room 101! It seems he really, really hates them. Happily, the host (Paul Merton, left) refused to allow this evil act and I have refused to watch Michael Parkinson ever since. I never watched him before either but that's not the point!
---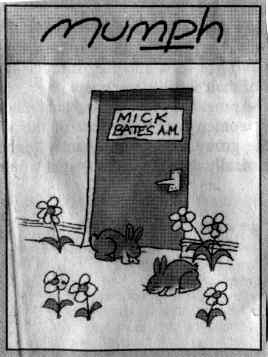 Taken from The Western Mail 28th November 2000. The National Assembly is the closest thing to a government in Wales although it's more of a glorified town council really. But if they discuss Teletubbies in it, then it was obviously worth having devolution!
---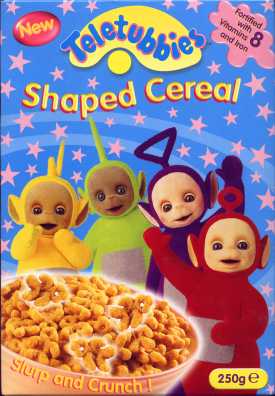 One day, in Teletu... er, Sainsbury's Supermarket, chrissy was pushing a trolley down the breakfast cereal aisle, looking, as usual, for the cereal which had the best free gifts. "Oooh...whassat?" said chrissy. It was "New Teletubbies Shaped Cereal"! Unfortunately, my excitement was dimmed somewhat when it turned out to taste like pencil sharpenings and wood chippings. And no free gifts either, which is one of the main reasons for cereal in my book!
---


Taken from the Daily Star October 26th 2001. Hey, teletubbies can't be bad for your health! Their cereal (above) is "fortified with 8 vitamins and iron". So there!
---



I can't remember what paper this is from. But it can't be a very good one if they can't even spell "Laa Laa". Back in 2000 the British government were wondering what to do with the less than successful Millenium Dome and this was one possibility. Sadly it was not to be.
---
Teletupsud is what Teletubbies is called in Estonia. And Estonia was the first country outside of the UK to broadcast Teletubbies back at the start of 1998. I was just learning to program then and had been doing so for a matter of days when I decided to honour this historic occasion with an Estonian Teletubbies program! This was on the downloads page until sometime in 1999 when I decided to take it down because, frankly, it looks like something a seven year old with a BBC Micro did. But thanks to this page, Teletupsud is back, in all its, ahem, glory!

Download Teletupsud (35K)

This is a DOS program. Just download it, run it, sit back and gasp at the sheer pointlessness of it all. Oh yeah, you'll need an internal PC speaker (if your PC beeps when you start it, you've got one) to hear the music!
---



Cartoon taken from Private Eye around the time of the solar eclipse in Cornwall in summer 1999. It turned out to be overcast so nobody actually was blinded staring at the sun.
---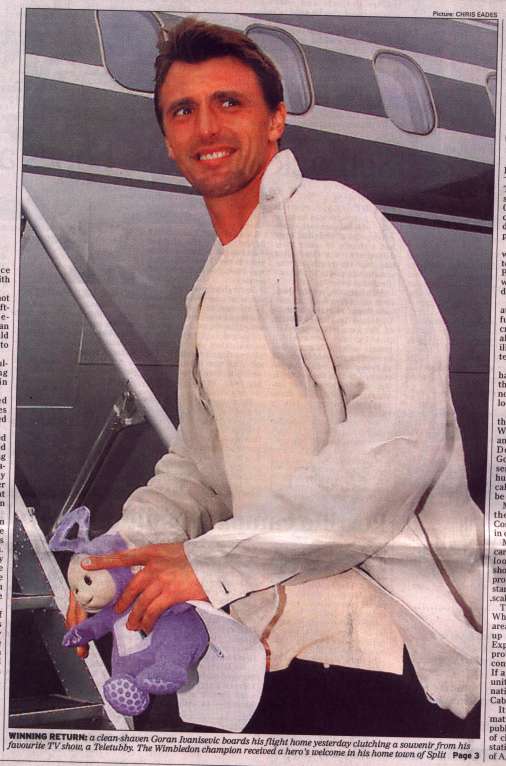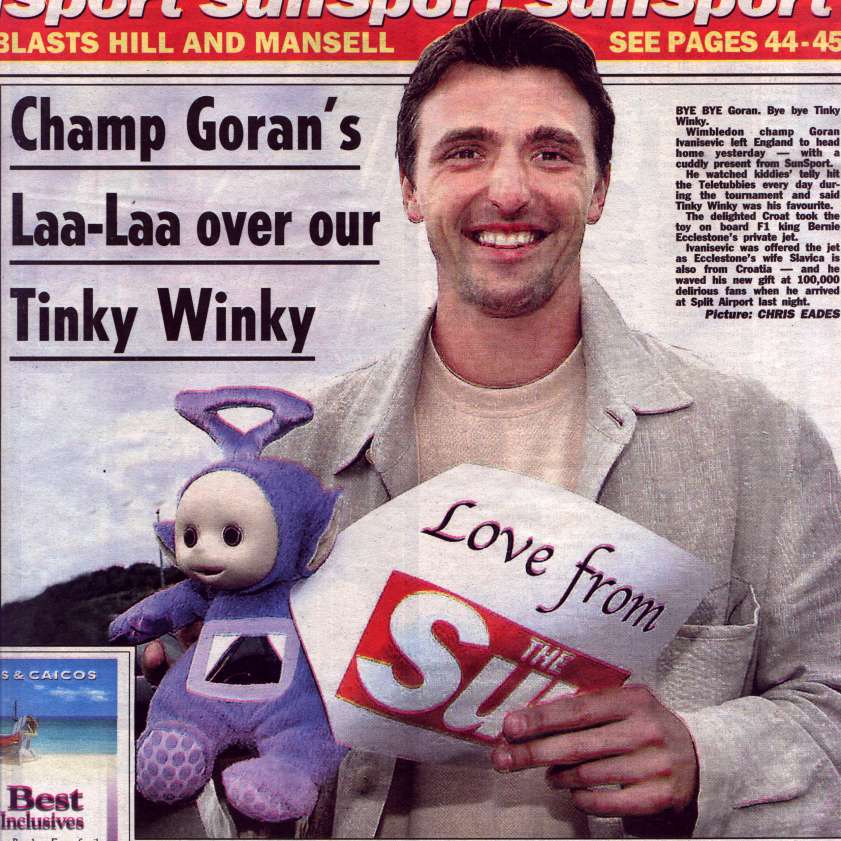 From the Daily Telegraph (top) and The Sun. Both are from July 11th 2001 after Goran Ivanisevic won Wimbledon. And you could too if you keep watching Teletubbies!
---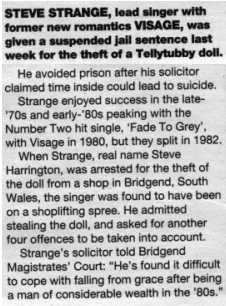 Taken from NME sometime in April 2000. Tubbynapping is a serious offence y'know!
---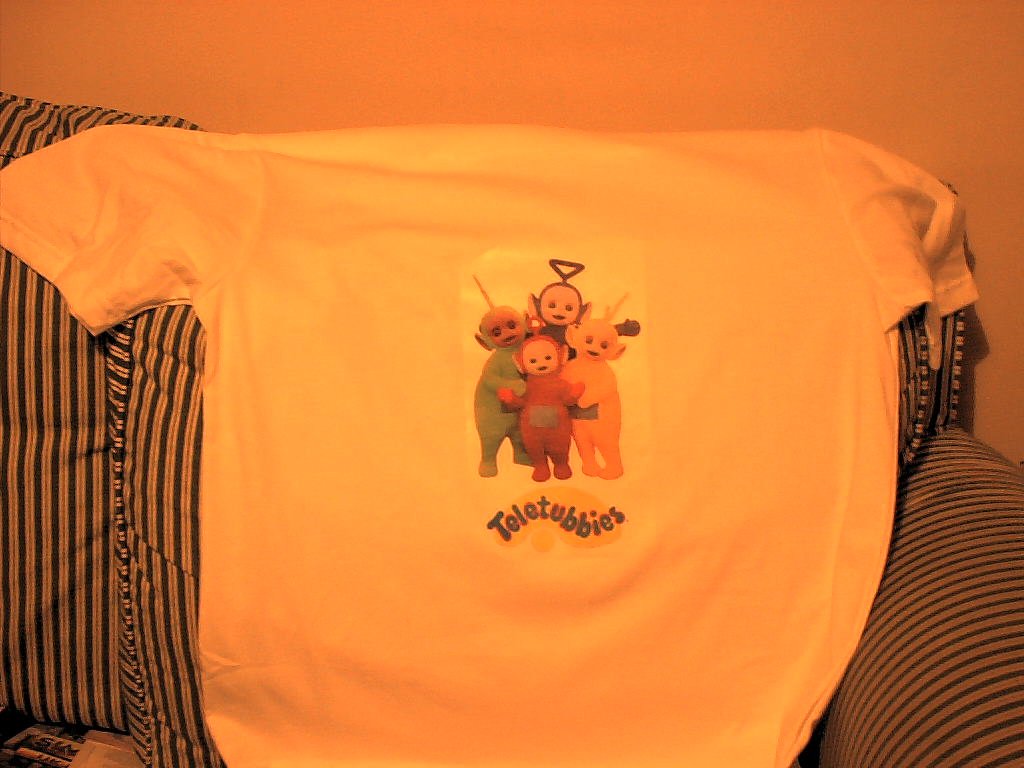 For years I wanted a teletubbies T-shirt but Ragdoll refuse to license adult Teletubby products. Boo hiss! So finally I bought a printer and some T-shirt transfer paper and made one myself. And then, shortly after the picture was taken, got curry all down it :(
---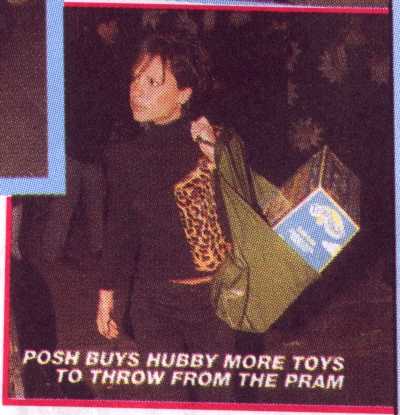 Taken from NME sometime in January 2000. Posh Spice, Victoria Beckham, buys a Teletubby doll. Never let it be said the woman has no taste!
---
Back to main page