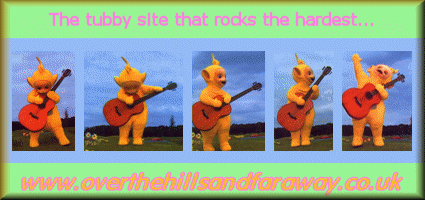 Games
Here are some teletubbies games I made. Don't expect state of the art stuff but they should provide you and any small children in the vicinity with literally, er, minutes of top class tubby fun! Oooh lubbly!
---
| | |
| --- | --- |
| | Where's Dipsy's Hat? It's not on his head! Where gone?! Can you help him find it? Oh, go on, he'd do the same for you! |
---
| | |
| --- | --- |
| | Find a Teletubby! Find him again! Again Again! This is basically a Teletubbies matching pairs game. With Teletubby voices! Probably good for developing your child's memory. Or at least for making your computer talk like a teletubby! |
---
| | |
| --- | --- |
| | This one's a bit like the Columns game, where you have to move falling coloured blocks to line up three or more colours. With this one, you're lining up little pictures of teletubbies instead! Which is obviously better, hmmm? |
---
Guide Po around the screen on her scooter, gobbling up Tubby Toast whilst meanwhile avoiding Laa Laa's ball which is madly bouncing around in a most hazardous manner. And then do it again again! Mmm Nice!

NEW! Now available for the GP32 handheld console.
---
Other Stuff
| | |
| --- | --- |
| | Bored of seeing the same old Microsoft logo every time you start up Windows? Then why not change it for a groovy Teletubbies logo?! Download this program and replace both your startup logo and your "Windows is shutting down logo" with these far superior alternatives. And if you don't like them (oh, how could you not?), an uninstaller will replace your old boring ones for you! |
---
| | |
| --- | --- |
| | Ladies and Gentlemen, cats and dogs, I give you tHe mAGic TeLeTubBY kALeiDoSCoPe oF dOoM! What does it do? Hard to say. I imagine this is what the Noo-Noo's dreams look like. |
---
| | |
| --- | --- |
| | Here in Wales, everybody loves sheep, rugby, close-harmony singing and, of course, sitting down on Wednesday afternoons to watch the Welsh translation of "Teletubbies" on S4C. And this is what our theme tune sounds like. All together now, "Amser Teletubbies! Amser Teletubbies!" |
---
More stuff coming soon...Watch this space!
Don't forget to sign my guestbook on the way out!